Amazing Jewelry Bail-Making Plier!

If you are a handmade lover, then look right here! Introducing the amazing jewelry making plier—Stepped Round Nose Jewelry Plier!

Wrap, tap, and loop! It's perfect for either professional or just amateur jeweler making lovers do their jewelry making. A must-have for your wirework, beading, jewelry making, and DIY project.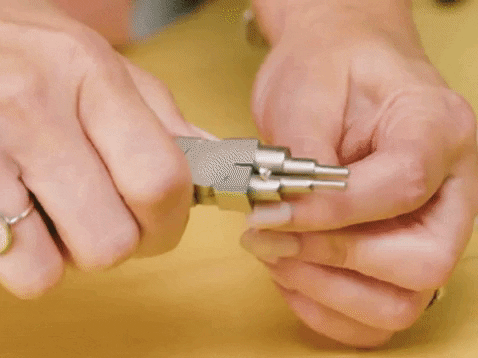 This jewelry plier helps to make perfect loops every time. Great for shaping ring
bands, ear wears, or chain links. This 6 in 1 stepped round nose jewelry plier creates beautiful bails or shapes wires to your content, making 6 different loop sizes: 10mm, 8mm, 7mm, 6mm, 4mm, 3mm.

FEATURES:
Heavy-duty- This stepped round nose jewelry plier is made of carbon steel, anti-rust and durable. Specially designed to make bending and shaping wires easy and stable to use.
Versatile and Convenient- This plier features 6 bail-size options for all of your jewelry projects. It can replace 6 separate plier tools by creating 10mm, 8mm, 7mm, 6mm, 4mm, and 3mm loops.
Bailing and Beading- Bend, shape, and loop metal wire to create custom jewelry and accessories.
Spring-loaded- Double-leaf springs and a lap-joint construction prevent hand fatigue and cramping.
 

SPECIFICATIONS:
Item Type: Jewelry Plier
Material: Carbon Steel
Size: 6 round heads size- 10mm, 8mm, 7mm, 6mm, 4mm, and 3mm.

PACKAGE INCLUDE:
1 x Stepped Round Nose Plier