Health Benefits Of Playing Shut The Box!
Everyone knows that board games are fun and provide unplugged family time. But, did you know that this Shut The Box games can lower your blood pressure, grow your immune system, and strengthen your memory and cognitive skills? In fact, playing board games decreased the incidence of dementia and Alzheimer's. Board games are also often used in therapy to build verbal and social skills. It is not only an educational game for children but also benefits us, adults.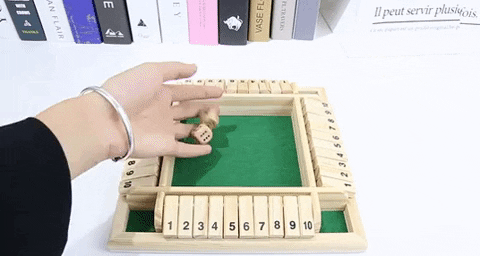 FEATURES:
More description of our Shut The Box-
Shut The Box -

 The "Shut the Box Game" is an open-ended board game. Here are four lines of Numbers 1 to 10 on the top of the solid wooden board, and each number with a corresponding square panel cover that can slide or swing to cover the Numbers, and 8 dice and an instruction manual are also included.

Enhance Social & Communication Skills -

 

Did you know that playing board games can teach important social skills like verbal communication, being patient, sharing, taking turns, and enjoying interactions with others? Games like Shut the Box foster the ability to focus and lengthens the player's attention span. Playing games is an easy and excellent way to spend an unhurried, enjoyable time together. They are also rich in learning opportunities.

Improve Problem Solving -

 After rolling the dice and adding them together to get a certain number, the player needs to think about and try different combinations of numbers. Players can enjoy the luck of the game as well as exercising skills in math and problem-solving.
Great Gifts For All Ages -

 This Shut the Box Dice Game is suitable for 2-4 players, you can play with your children, parents, colleagues, and friends, enjoy happy hours with your families and friends for all ages. It is easy to learn and fun, kids, teens, and adults all enjoy it!
Premium Quality -

This

 shut the box game wooden is made of solid pinewood

.

This version has 10 silk-screen numbers of wooden tiles that bring more numerical combinations than the nine number versions.
How to play this game?
Each board prints number clearly, each player owns 10pcs of board number from 1 to 10

.

Roll the dice and lay down tiles that match the sum of the roll dice numbers

.

In addition, you can customize the detailed rules of the game

.
SPECIFICATIONS:
Material: Pinewood
Color: Wood Color
Size: 22cm*22cm*1.8cm
PACKAGE INCLUDED:
1 x Wooden Number Board

2

x Dices