Do you want to spice up your next sewing project or do you want to add ruffles to your design? If yes, then the Sewing Machine Ruffler Foot is the perfect sewing tool! Sewing Machine Ruffler Foot can definitely level-up the looks of your home decor project.
It is also perfect for creating and designing dresses, skirts, and other garments. What was once a laborious and often frustrating technique of manually gathering and pleating fabric can now be achieved effortlessly with the Ruffler Presser Foot.
FEATURES:
Create Ruffles & Pleats Easily
No more spending long hours for manually measuring, folding, and pinning pleats. With this presser foot, making ruffles and pleats is fast and convenient.
Ruffles & Depth Regulator
At the top of the presser foot are 4 holes marked star that can set to make pleats in 12, 6, and 1 stitch. It also has a knob at the bottom to change the depth of pleats.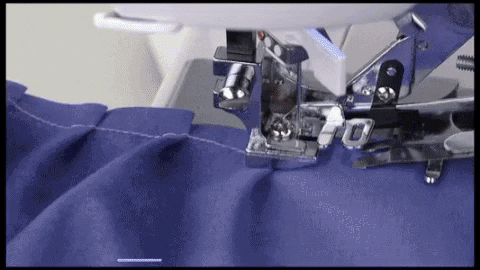 Easy Installation
Simply snaps the ruffler foot on your sewing machine. It fits most low shank sewing machine brands such as Singer, Brother, Babylock, Husqvarna Viking (Husky Series), Euro-pro, Janome, Kenmore, White, Juki, Bernina (Bernette Series), New Home, Simplicity, Necchi, and Elna Sewing Machines.
Great Gift
Allows easy creation of ruffles and pleats on all garments, it makes a great gift for any dressmaker, seamstress, tailor, and DIY enthusiast.
There are 4 settings on the Ruffle Foot: Star, 12, 6, and 1. These represent how many stitches between each pleat or ruffle. The star gives you a straight stitch so that you don't have to remove the foot in the middle of a project just to sew a straight seam.
The orange knob changes how deep the pleat or ruffle is. For smaller pleats, tighten it. For larger pleats, loosen it. You can also adjust the pleats by varying the stitch length on your sewing machine.

Examples of a different number of stitches between pleats.
SPECIFICATION:
Material: Stainless Steel
Size: 8.2 x 6.7 x 3.8cm
Frequency setting: 12, 6, 1 stitch
Weight: approximately 100g
PACKAGE INCLUDES: 
1 x Sewing Machine Ruffler Foot