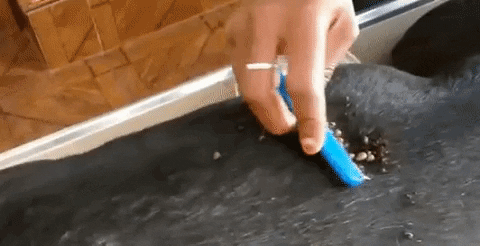 Have you spotted your pet scratching its fur badly? Pet Flea Comb is a stainless steel bristles pet comb that able to remove flea form your love pet. Besides, the bristles of comb is smooth, so it will not hurt your pet and provides comfortable comb massage.
Features:
[High Quality] - The pet flea comb is made of high quality pp material and the comb

 

bristles

 

is made of 

stainless steel so it is strong and durable.

 
[Easy To Clean]

 

- Since the comb

 

bristles

 

is made of stainless steel to prevent rusting, so it can simply wash by water after using it. 
[Suitable For All Types Of Furry Pets] - The stainless steel bristles are firm yet soft. This universal pet flea comb can be used to groom cats, dogs, guinea pigs, rabbits, kittens, puppies, hamsters, gerbils, ferrets and any other type of furry animals. 
Package Included: 1x Pet Flea Comb