One Of The Most Innovated Tool!
Are you a person who always searching for the best way to complete every task? If yes, then you are right in place! Material preparation will be the one thing in particular for you, you would not like to have too many tools for a simple job to be complete.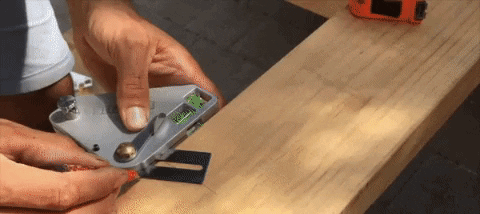 Introducing the one tool that could do it all, the Multi-Functional Angle Ruler. Offering more functionality than any other layout tool. It also has applications in other fields such as steel fabrication and roof plumbing. Use ruler's left edge for all angle setting, basic rafter layout, square and 45 degrees, horizontal, vertical, and 2D leveling. This Multi-functional Angle Ruler finds any angle just like a digital level can. Set the angle ruler in situ to replace an exact cut.
FEATURES:
SAVE TIME AND MONEY - This carpentry tool helps you get the job done fast and with less hassle and headaches. Carry and use just the one Roofus tool to do multiple jobs.
COMPACT AND EASY TO USE - Replace your tool kit with this compact and easy to use carpentry tool. This innovative design combines the functionality of a combination square, sliding bevel, builder's protractor, digital box level, a 14" box level, and speed square.
MARK UP ACCURATELY WITH SPEED AND MEASURE ANY ANGLE - Mark repeatable and accurate carpentry cuts with confidence and without adjusting the tool or changing the tool's configuration and capture the angular pitch of any single surface.

SPECIFICATIONS:
Color:

Silver

Size:

36 x 9 x 2.8 cm

Material:

Aero aluminum alloy
PACKAGE INCLUDE:
1 x Multi-Functional Woodworking Ruler, Square Ruler, Level Ruler, Triangle Ruler.
NOTES;
Due to the different monitor and light effects, the actual color of the item might be slightly different from the color showed in the pictures.