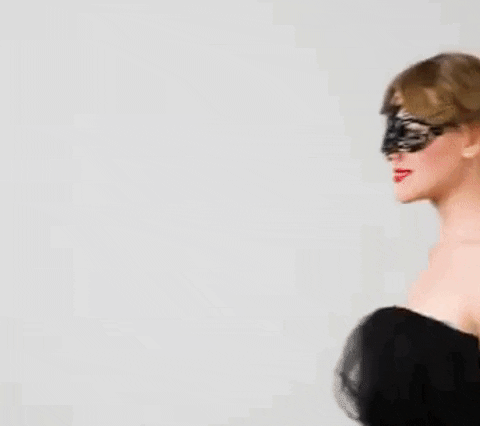 It's time for yet another round of Craft Lightning – quick and easy DIY craft projects that can be made in under 15 minutes! This round we're talking all about hot glue gun crafts, and since Halloween is just around the corner, I thought it would be super fun to whip up a DIY masquerade mask to go!
To begin making the masquerade mask, start by cutting a piece of lace that is slightly larger than the mask template. Plugin the hot glue gun to warm up, and insert a Black Glue Stick into the glue gun.
On your work surface, layer the mask template, parchment paper, and lace in that order. I taped all of my pieces down so that they wouldn't shift around, but this step is optional and not completely necessary. Use the hot glue gun to outline the basic shape of the mask. Allow the glue to dry for 2 minutes.
Add a second layer of glue to bulk up the outline if needed, and then add the additional swirls and details. Allow the glue to dry for a couple of minutes. Use fine-point scissors to trim the mask and remove the excess lace.

then, add black ribbon ties and you've got a super cool masquerade mask that's perfect for Halloween or dressing up – in around 15 minutes!
Totally cool, right?! I think it would also be really fun to make more of these!
SPECIFICATION:
Material: Polyurethane Rubber
Dimension: diameter 7mm
Length: 27cm
Working Temperature: 160-180℃
Solidify time: 8-10 seconds
Color: Black
PACKAGE INCLUDES: 
1 x Black Glue Sticks (10pcs)