What can this belt do for you?

This luggage strap that builds in electronic scale and 3-digit number lock. You always know how heavy is your luggage. 
know your luggage weight easily (anywhere, anytime)
avoid expensive baggage overweight fee
save money!
4-in-1 design
know your luggage weight in advanced, so you can share the stuff with your friends, take out unnecessary stuff or buy extra baggage in advanced which is usually much cheaper.
Specification:
Built-in electronic scale
3 digit lock
ABS Material
Suitable for 20-32 inches suitcase
Switch between KG and LBS
TSA version, 4-in-1 design - luggage belt + number lock + electronic scale + TSA lock


TSA Approved Luggage Lock is a global security system which allows passengers to lock their luggage while permitting security authorities to inspect them without damage. Luggage locks approved by the TSA have a universal master key that can open the locks.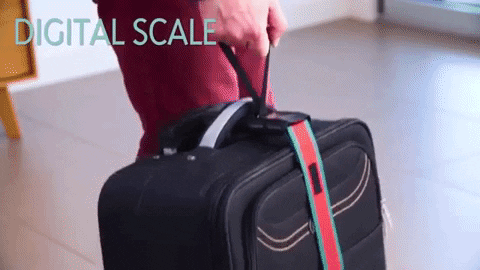 Frequently Asked Questions
Does this require a battery?
Yes, it does. It uses cell battery only which is allowed on the plane. The cell battery is included.
How heavy is this belt?
The weight of the belt is around 0.1kg.
With the TSA version, the Customs or Transportation Security Administration has a master key to open it, just in case they want to check your luggage.