LED Face Therapy Device uses a specific wavelength of light to emit energy to solve several skin problems. This therapy device combines red and blue light which can speed collagen renewal, shrink pores, increase skin elasticity so that make your skin white, tender, firm, and achieve the purpose of skin rejuvenation and always keep young.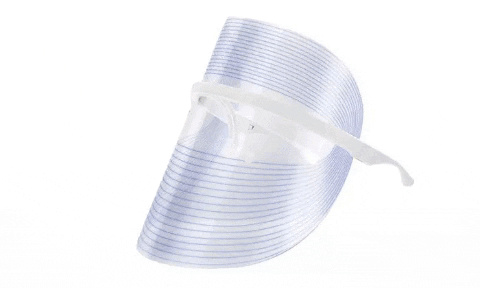 FEATURES:
3 Colors Light - The device includes red, blue, and orange light sources through Nano light-guiding material under the principle of bio-phototherapy, which gives the skin a gentle massage, to accelerate the skin's metabolism and make the skin translucent and lustrous.
LED Beauty Mask Effect - It helps to whitening skin, tightening pores, causing hyperplasia of collagen, increasing skin's luster and elasticity, anti-aging, firming skin, improving dark circles, eye pouches, fine lines, eliminating dark spots and dry spots, improving oil pox skin, repressing and improving acne, accelerating the absorption of skincare products, and improving sleeping quality, etc.
Safe - The LED impetus light is luminescence but it won't hurt your skin, safe, and no side-effect. Its special wavelength can be used for irradiating the human body, and prolong or shorten irradiation time without burning skin, turning black, and etc.
Use - It can be used after cleansing, once a day, every time 15-20 minutes. It is recommended to use with mask/essence.
Ideal Beauty Device - It is an ideal beauty tool for home, office, travel, etc.
The device is NOT suitable for the following group of people:
Pregnant women
Epileptic group
Patients with thyroid disease or using a thyroid drug
People allergic to photosensitive drugs (e.g. tetracycline)
SPECIFICATIONS:
Material: ABS
Light Color: Red, Blue, Yellow
Size: 21*15.5*11cm/8.27*6.10*4.33inch (approx.)
PACKAGE INCLUDED:
1 Unit x LED Face Therapy Device