EZ Branch Trimmer is perfect to keep high trees and hedges in check without lifting a foot off the ground. The EZ Branch Trimmer allows you to cut away outlying branches and foliage by merely lining up the scissor action blade and pulling back on the attached pulley cord. Wood up to an inch in thickness can be snapped off with ease, but for those trickier branches, simply attach the included saw function to cut away from a safe distance.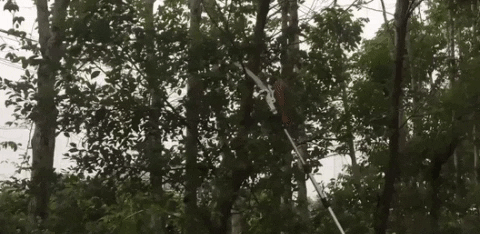 FEATURES:
Practical in Use - This trimmer is a great tool for cutting high branches without climbing a ladder.
Fine Quality - The trimmer features the fully hardened precision-ground steel trimming cutter to be perfect in use. The selected alloy steel materials enable the trimmer to be more durable.
Labor Saving - The trimmer features the four pulleys system to cut through dense branches with the least effort, which is convenient in use. The pulleys make the process smoother and unobstructed.
Fine Design - The high-quality spring and pulling rope make the trimming more convenient and easier. It is easy to install and remove, no tool needed.
Scope of Application - It is applicable for easily working on fruit trees, high branch lights trimming, bonsai trimming, fruit tree cutting, garden trimming, and etc.
 SPECIFICATIONS:
Steel: SK5 alloy steel
Handle material: PVC
Blade length: 355mm (Approx.)
Blade side width: 50mm (Approx.)
Aperture size: 60mm (Approx.)
Overall length: 450mm (Approx.)
 PACKAGE INCLUDED:
1 Pc x EZ Branch Trimmer