It is hard to get the same exact light base when it comes to downlight.  Forget about those plastered ceiling fix or unsightly mark as we are about to introduce you the one-stop solution for your problem.
Introducing the Downlight Hole Filler, the detachable clip for your downlight and it has an adjustable rail for you to fit different lamp base! Works just like a new generation clip type downlight, Downlight Hole Filler allows you to install your downlight without precise positioning and you can save lots of time on fixing the edge! With the adjustable rail design, now every lamp type can be converted to a "clip-on" type!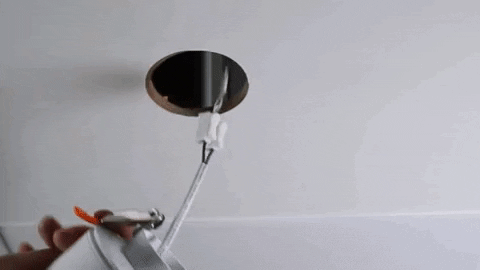 Installation
Prepare the hole filler in the corresponding size for the downlight or spotlight to be mounted.

Remove the lamp base plate from the lamp body.

With the side of the thread up, align holes with slots, and fix the base plate and the hole filler together by screws.

Reserve enough length of wire, and re-install the lamp body to the base plate.

Hold the two spring wings towards each other in order to insert the fixture into the hole.

Installed.
Package Includes: 1 x Downlight Hole Filler