BABY RATTLE BRACELET & SOCKS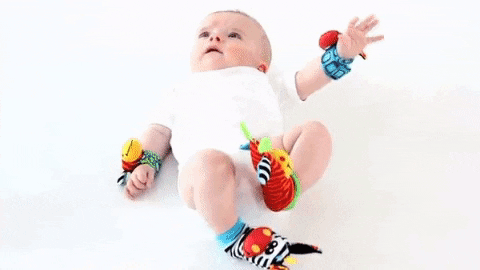 Introducing the best children's interactive sensory development Baby Rattle Bracelet & Socks. These socks and bracelets have been specially developed in order to provide your child with the most comfortable wearing experience due to our high quality cushioned material. These socks are crucial for developing basic hand-eye coordination in a child as they provide the child with a reason to move their hands and feet in specific ways in order to cause the rattle to make a noise, over time this practice will allow them to develop hand-eye coordination faster. 
FEATURES: 
【Perfect Baby Gift】This animal wrist rattles toy will make an ideal gift for any expectant mother or newborn baby. Give it as a special gift for baby showers, birthday parties, or Christmas gatherings that is sure to impress.
【

Super Adorable】Animal Zebra & Giraffe design in wrist and sock. Bright vivid colors and cute animal faces visually stimulate your baby's vision and encourage baby to touch and explore.
【Development In Fun】Designed for a growing baby, this infant educational toy offers the opportunity for your kid to promote his/her eyes, ears, and hands ability with the bright multicolor, which develops hand-eye coordination, awaken auditory awareness and refine motor skills.
SPECIFICATION:
Rattle Sock Size: 14*6.5cm
Rattle Bracelet Size: 15*4cm
Animal Design: Zebra & Giraffe
PACKAGE INCLUDES:
2 x Baby Rattle Bracelet / Socks (1pcs Zebra + 1pcs Giraffe)