💧

Save water, but leave the job to this automatic valve to avoid water wastage!

💧
Introducing 
Automatic Water Level Control Valve, 
the 
automatic water control valve leverages the
smart water-level-sensing technology
! Once the sensor senses that the container is full, it turns off the water flow immediately!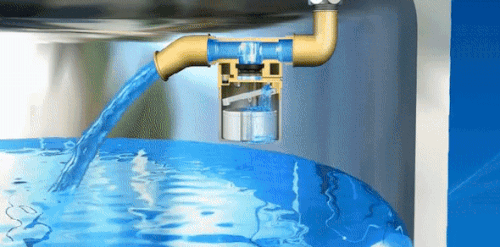 When the decline in the water level in the pool or a water tower, floating ball valve is opened to drain, water inlet pipe water pressure will hold the valve piston, the sealing surface of open, water supply valve is open when the water level rises to the control valve, ball float valve is closed, the downward movement of the piston sealing surface will be closed, the valve to stop the water supply.
FEATURES:
✅

 ECO-FRIENDLY ENERGY AND WATER SAVING SOLUTION:  This valve operates with no electricity needed! Live greenly has never been more durable, easy and foolproof! 
✅ WIDE APPLICATION: Use this valve to replace the traditional float ballcock and stay water-efficient for pools, water towers, tubs, sink, and even toilets! 
✅ CONTROL YOUR WATER DISPENSING WITH SMART VALVE: The valve body sinks to open the forerunner of the control valve for water dispensing! Once the valve floats in full water level, it stops water immediately! 
✅ EASY INSTALLATION: To install the valve, simply screw the valve tight at the taps for a no-fuss, no tools easy setup!  
SPECIFICATION: 

Working pressure range: 0.2-10kg
Applicable Medium temperature: 70
Temperature resistant up to 70~120 degree celsius
PACKAGE INCLUDED:

1 * Automatic Water Level Control Valve
ADD TO CART NOW! WHILE STOCK LAST 👆👆