Easily Get Restringing Done!
Almost all guitarists will face the same problem which is string slippage. When strings slip they lose tension and the guitar goes out of tune. While doing restringing, stubborn bridge pins often plague guitar players. If you're not careful, the ball-end of the string can get jammed in the wrong position and make the bridge pins difficult to remove.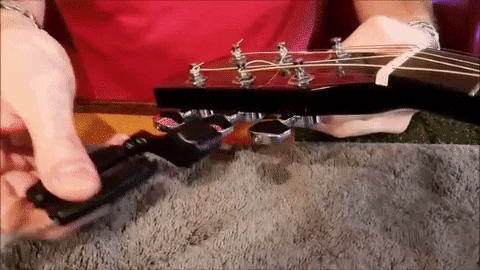 All the problems can be saved using this powerful small tool-- 3 in 1 Guitar Winder! It contains 3 functions in 1 body which are string winder, string cutter, and bridge pin puller. It can cut through your old strings to make removing them quicker, and trim the excess off of new strings after looping them through the tuning machines. Hurry and keep one of these perfect all-in-one tools in your gig bag or case.

FEATURES:
High Quality - Unlike ordinary peg winders, the patented is a high-quality peg winder with a built-in clipper and bridge pin puller. Designed with durable hardened steel wire cutters.

Wide Application - This 3in1 Guitar Winder is designed to fit virtually all stringed instruments such as guitars, basses, banjos, and mandolins.

Compact And Easy To Use - Replace your tool kit with this compact and easy to use guitar winder tool. This innovative design combines the functionality of a string winder, string cutter, and bridge pin puller.
SPECIFICATIONS:
Color: Black

Size: 11.5cm x 5cm

Material: ABS + Steel
PACKAGE INCLUDE: